As conflict around the world continues to displace people groups, one of the greatest challenges must be the high risk associated with the humanitarian relief goes with it. These risks can significantly reduce access to the most vulnerable in need of assistance. Sadly this includes one in five children in the world who currently live in conflict affected areas.
In a recent report published by Humanitarian Outcomes, 2018 is recorded as having the second highest number of attacks on aid workers with a total of 405 of them affected by major violence.
Chelsea Village, located in the heart of the Mogadishu International Airport zone (MIA), is no stranger to hosting humanitarian aid workers. The camp, built and managed by Camp Operating Group, is only two minutes from the airport and a few minutes' drive from the UN, the UK embassy and other missions.
Their mission is simple:  to create the most safe and most comfortable compounds in logistically-challenged locations around the world.
Lamii, a humanitarian specialist from Liberia, who has been working in Somalia and living at Chelsea Village for the past three years describes what it's like to live at the camp.
"For most aid workers, it is part of the job to face poverty, violence and vulnerability on a daily basis, but it's the unpredictability of working in a conflict zone that can be the most stressful, but my team and I feel very safe.
"There has never been a moment whilst at Chelsea Village that we have felt insecure. Not one minute," says Lamii.
The camp, offers luxury container accommodation, quality meals, a medical facility, gym and on-site potable water tested daily against World Health Organisation standards. But while it's unusual to have luxury accommodation in such a hard and remote environment, the security of the guests is still the camp's first priority.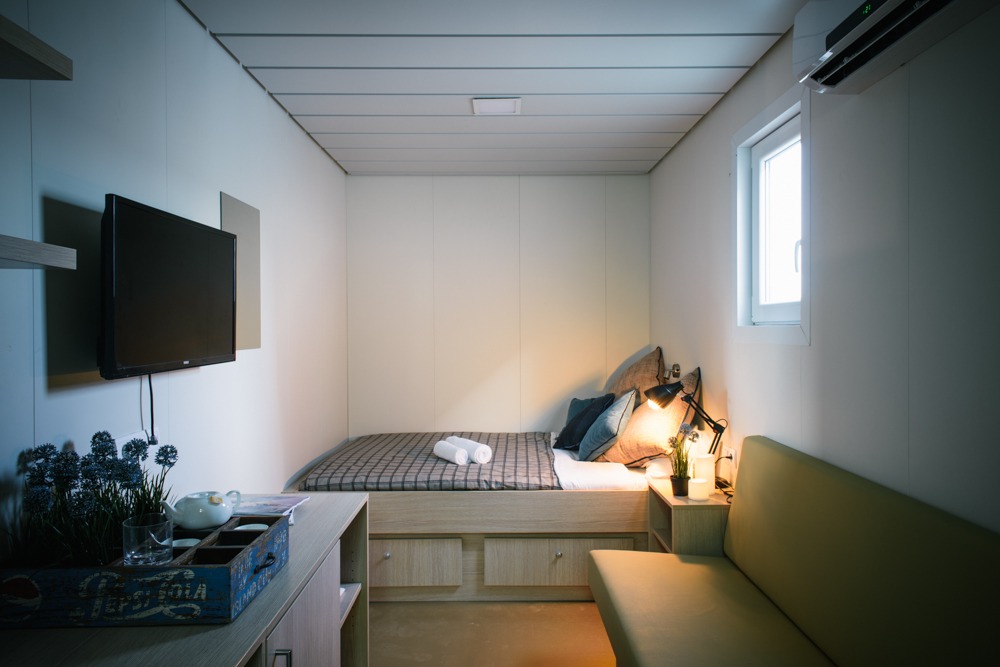 NapCap accommodation containers are made out of welded steel and further safeguarded with extra overhead protection comprising layers of sandbags and a stand-off detonation screen.
Guarded by a dedicated Hart security team, extremely high standards of security are a priority at Chelsea Village. It is one of the only camps in the MIA zone to be contained by T walls, blast wall protection and defensive positions throughout the compound.
The onsite bunker is reinforced with steel, while the Napcap accommodation containers are made out of welded steel as opposed to the flat pack units that are common in most camps. These are further safeguarded with extra overhead protection comprising layers of sandbags and a stand-off detonation screen.
"The technical capabilities of every individual staff member is very high, each one seems to be imbued with a high appreciation of client orientation that allows them to focus on helping customers meet their long-term needs and wants," observes Lamii.
"Chelsea Village continuously offers 5-star service. The level of professionalism exhibited by the staff on a daily basis is unique. Not only are the staff friendly, but the attention to detail makes living in this environment easier," he concludes.