NapCap is a container home created by a team who have spent years working in field operations in challenging locations. After much time spent in flimsy prefabs or tents – neither comfortable or safe considering the high-risk environments – they saw a gap in the market that needed to be filled.
This lead them to create NapCap: a full turnkey solution offering a secure, comfortable, custom-made accommodation container that could be 'home away from home' for those spending long stints operating remotely. They were created with the likes of Military, Private Security, NGO's, O&G, Mining Exploration and Logistical service support organisations in mind. Ideal for challenging locations, the beauty of NapCap is that they can be used anywhere in the world.
Here are the Enigma Smart Site Services team's tips on what to look for when choosing your container accommodation:
1. Modular Options
Does your provider have options that fit your field operation? NapCap is our Executive Model and is our standard offering, a bespoke built certified high-end container designed for living and working. This is built standard in a 40ft container format split into two 20ft living units. This allows for a rapid build process and reduction of costs with logistics. NapCap does not stop there: we provide modular solutions from containerised kitchens, laundry units, water and waste water units, multiple design sleeping and accommodation options. NapCap also produce a mobile plug-and-play transformer container that provides clients with expandable working space from offices, schools, Command and Control centres and disaster relief mobile offices.
2. Strength Of Steel
Many container homes are shipped as flat packs and then put up on site. There are benefits to this model but Prefabs can be flimsy, and we wanted our containers to withstand the test of time. NapCap was designed with remote field operations in mind: locations which often come with challenges, from extreme weather to security risks. They're made out of welded steel by skilled shipbuilders and are certified to ISO 1161:2016. Unlike some accommodation containers on the market they are built new.
3. Life Cycle
Some field operations last for years – but what happens when your project is complete and it's time to move on to the next? Ideally, you want the investment of your accommodation to move with you. The container element, combined with the quality of the build, means that NapCap can be moved multiple times without being compromised.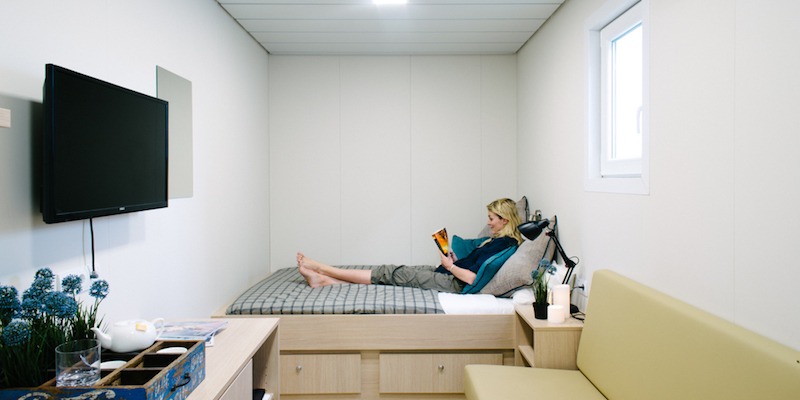 4. The Right Design
Container homes have many benefits but it's still a confined space, so look for a unit that has maximised the space through design. NapCap offers a steel protected shell with a double bed, sofa, desk, fixed data Internet connections and cupboard space, as well as an en-suite bathroom all in a 20-foot container. Nifty storage design, including under bed-drawers and extra storage within the sofa, shows the level of thought that has gone into the design.
5.  Put It To The Test
You like the look of the container but has it been trialled successfully in a challenging location? NapCap was designed by a team who have also spent many months living in the product in Mogadishu – a high-risk location that is hot, windy and has very corrosive nature due to being close to the ocean. At Chelsea Village (our camp that hosts 150 guests from the humanitarian and development communities, security industries and Tier 1 service support companies) NapCap has been a great success.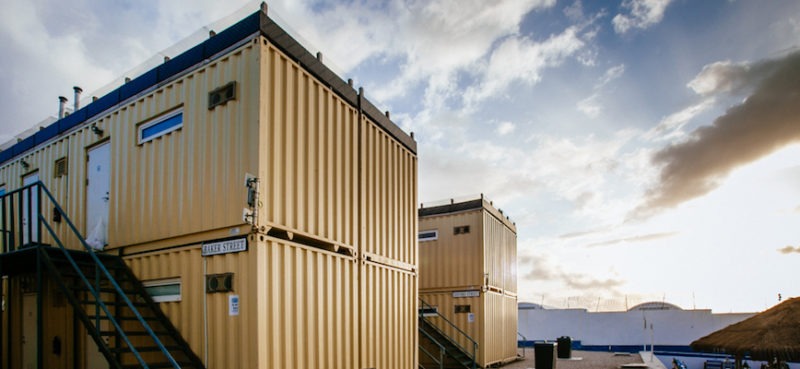 6. Get Connected
Working far from home doesn't necessarily mean you have to be disconnected. The Executive NapCap model comes with flat-screen tvs and is set up to be connected to WiFi.
7. Whatever The Weather
Working in Africa where the temperatures soar? Or perhaps, you're in a location where you battle with strong winds or high humidity? Wherever your based, your container home should be comfortable all year round. Check your unit is properly insulated and sealed. NapCap is built to withstand a variety of weather conditions as well as extreme temperature differences (ranging from -25°C to 50°C) and comes with air-conditioning units.
8. Safety/Security
What are your safety requirements and have these been taken into consideration you're your choice of container? NapCap has been designed with safety and security paramount to its functionality, due to the location of our camp in Mogadishu. This is not a shipping container but a steel container that is built from new. Windows have blast curtains, air-conditioning is one single unit fitted internally to prevent blast projectiles. All fixtures and fittings are ergonomically designed to be both functional and safe. Security is paramount to the design with portholes in the doors and double locks on all doors. The design is compliant with UN-MOSS standards, making them ideal for hostile environments, remote working camps, disaster relief and refugee camps.
9. Plug & Play
How easy is your chosen container accommodation to install? NapCap was designed with speed of installation in mind, with simple water and waste water connections with a central control panel for access, to electrical and plumbing operations.  With the capability of being stacked two high, NapCaps come with interlocks to provide a quick and fast installation process. With pre-work civils completed, an experienced construction team would have a facility rapidly erected in days.
10. Logistical Support
You've got your container home to your required location – but what do you do if an element needs to be replaced? It's important that your product is supported. NapCap has been designed to ensure that products can be supported in the field. All equipment is European Specification, spare packs can be supported and shipped globally. Our units meet ISO certification standards inclusive of European build standards.
NapCap can offer complete turnkey solutions, from design, site surveys, project management, delivery and Installation support. Check out our specsheet here